PRODUCT OVERVIEW
BCAA IN ALL ITS FLAVOURS
Drink powder containing a natural ratio of BCAA's, vitamin B6 and glutamic acid, for the lovers of hard training and flavours.
Sugar-free, flavoured, 2:1:1 ratio BCAA powder, containing 6,000 mg BCAA and vitamin B6 per serving.
WHY IS IT GOOD FOR YOU?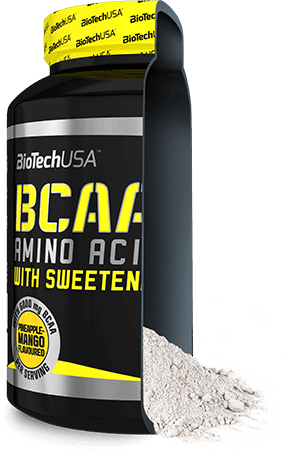 Free of sugar, aspartame, and preservatives
Easy to dispense
Wide range of packaging sizes and flavours
With vitamin B6
THE CONTENT OF ONE PORTION
WHY SHOULD YOU CONSUME IT?
Because it's excellent for anyone who is looking for a protein shake that is rich in refreshing amino acids for their workout.
Because it's excellent for any type of workout.

Because it provides fast and low-calorie supply to the body before workout.
Because it contains all three BCAAs.
Because it's an excellent choice for those on a diet since BCAA is not only lactose- and gluten-free, but it's also sugar-free.
Because BCAA gives you not only excellent supplementation, but it also comes in amazing flavours.
HOW TO PREPARE?
9 g
amino acids
+
Mix one serving (2 measuring spoons = 1 tablespoon) with 300 ml water and drink 15 minutes before or during workout. On rest days take it between meals.